08.24.13

Envisioned Culture of Lickspittle corporate headquarters.

It's fairly obvious Apple believes its urine to be the world's sweetest Kool-Aid.
From Krugman, an observation on how the mighty eventually fall:

Yep: the uncouth nerds who created Microsoft became incredibly rich, acquired couth, and lost their edge; Apple stayed edgy in part because of Steve Jobs, but also because it was a disappointment for so long. And if its plans to build a high-tech Versailles are any indication, the now super-successful Apple may be heading down the same road as its one-time nemesis.
At the height of his power, Bill Gates and Microsoft rescued Apple and Steve Jobs.
Today Apple believes it stands astride the world, if this article — pointed out in the Krugman post, is any indication:

At what turned out to be his last public appearance, Steve Jobs stood before the Cupertino City Council on June 7, 2011, to present plans for a new corporate campus for Apple (AAPL). Scarecrow thin but forceful as ever, Jobs displayed several renderings of a headquarters intended to accommodate more than 12,000 employees in a single, circular building. "It's a little like a spaceship,??? he said of the massive, four-story ring, which, at 2.8 million square feet, would be two-thirds the size of the Pentagon and set among 176 acres of trees where today there are mostly asphalt parking lots. "We have a shot,??? he said, "at building the best office building in the world. I really do think that architecture students will come here to see it??? …

The true expense of the campus lies not in green tech, though, as much as the materials—as well as what product designers call "fit and finish.??? As with Apple's products, Jobs wanted no seam, gap, or paintbrush stroke showing; every wall, floor, and even ceiling is to be polished to a supernatural smoothness. All of the interior wood was to be harvested from a specific species of maple, and only the finer-quality "heartwood??? at the center of the trees would be used, says one person briefed on the plan last year.

The main building will also be groundbreaking in how it's assembled. While the structural shell will be erected on site, the glass that forms the exterior walls will be bent and framed by Seele in its factory in Gersthofen, Germany. "It's something like 6 kilometers of glass,??? says Peter Arbour, an architect with Seele, who says that no company has attempted to use panes as large …
You only have to read about two and a half pages of it to get the idea Apple needs the structure, if only for the expanded space to fit all the raging conceits.
There is another historic instance of big world-gripping architectural plans that comes to mind. That went well.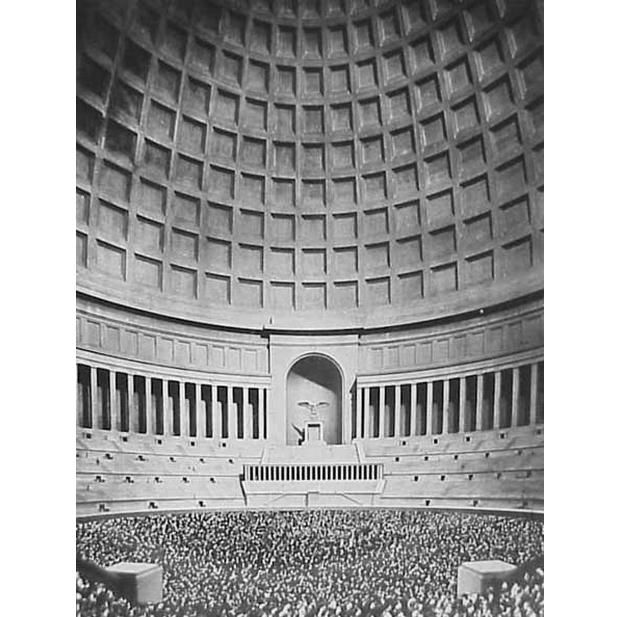 Interior of Albert Speer-designed Volkshalle, to be built in Berlin of Greater Germania after victory in World War II.