01.19.15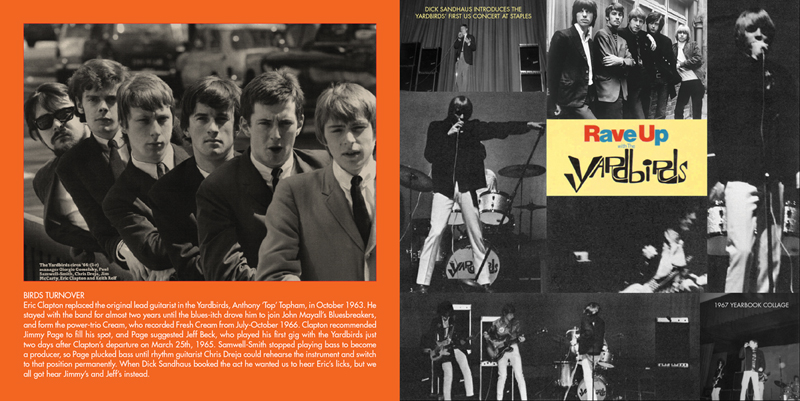 Bigger.
Dateline — Westport, October 1966 and the British invasion! The Yardbirds featuring the not yet super-famous rock guitar gun-slingers Jimmy Page and Jeff Beck had landed in Connecticut!
The Westport Staples High School auditorium was the famous rock group's first appearance in the United States.
How did it happen?
It's a remarkable story told in "The Real Rock n Roll High School: True Tales of Legendary Bands That Performed in Westport CT," compiled by Staples grad Mark Smollin and the students who were there.
In 1966 Staples students Dick Sandhaus and Paul Giambacinni wanted to make their high school days special. And they had a subscription to Billboard magazine. So with the audacity of kids they pitched the idea of bringing the new cutting edge of pop music, rock bands in the charts, to Staples. And the principal bought it! As long as the two could keep the stars to an initial down payment of 750 bucks.
They did.
And so they booked the Beau Brummels, a California band then climbing
the US charts with a single entitled "Laugh Laugh." The Staples auditorium was filled to capacity with screaming fans, kicking off what would be a long tradition of big name rock bands appearing there.
Tour promoters and record labels realized Westport's high school was a great stage, one where the teen fans would show up and bands would get a warm reception.
So along came The Yardbirds, Cream, Sly & the Family Stone, The Doors, The Animals, Pete Seeger, Blues Image and many more.
The illustration in this post, excerpted from the book, is a collage of snapshots taken at the Yardbirds show.
In late summer I copy-edited The Real Rock and Roll High School. It is a good book, one of a kind describing a part of history from the beginnings of classic rock, something that happened nowhere else.
I thought of it as an oral history, a richly illustrated scrap book and fond high school memoir filled with pop art, concert posters, ticket stubs, local newspaper clippings, and many photos taken by students.
It was fun to do and obviously a labor of love.
In the process it also exposed the limitations of ebooks and publish-on-demand at Amazon CreateSpace.
If you read the standard news on do-it-yourself publishing, Amazon is the be-all and end-all, the perfect place for everything: Publishing platform, print-on-demand, ebook distribution and the website where you will build a career and following in front of the largest potential audience.
Not so fast.
Amazon CreateSpace can't handle books like The Real Rock n Roll High School.
And the reasons are actually pretty simple. Amazon's technology isn't up to the challenge of sophisticated and complicated pages loaded with color photos, black and white imagery and text. It cannot make such a volume into an ebook for Kindle, either.
That's not something you read in Amazon's fine print. The author of The Real Rock n Roll High School had to find out the hard way that Amazon's self-publishing couldn't produce a good quality physical or electronic copy of a color dependent mixed-media volume on good paper, the likes of which you can still find by the hundreds and thousands in old brick-and-mortar stores across the country.
So how do you do it? Old school. The hard way, like book publishers have done for centuries. It turns out there are some things traditional book printing is still much better at.
Is there a digital copy of the book available? Yes, of course. As a .pdf, a form in which it looks very good.
But you don't really need Amazon for that now, do you?