01.25.13
Permalink Comments off
Foster Friess, the crazy Republican plutocrat infamous for going on television and making a witless joke about how women used Bayer aspirin for contraception back in his day, AND who bankrolled equally crazy homophobe Rick Santorum's presidential bid … is now even more crazy, apparently.
In today's Washington Times, the DC newspaper that lives to publish every single belief, everyday, in Republican Crazy World, Friess has evidently come to the conclusion that it's possible for his party of nuts rabidly homophobic people to win the gay vote.
How do they do this?
By telling gay people in America the GOP is their protector against the creeping menace of sharia law. That is, they will continue to try and beat up on Muslims in this country and that will make gay people like them more. (Or maybe he didn't really mean it and was trying to do anything to avoid talking about gay marriage. And WaTimes editors are desperate to reinvigorate the party with the weirdest things that can be thought up.)
Anyway, there can be no doubt it is an ingenious strategy, right there with having a woman hold a pellet between her knees as birth control.
An influential GOP donor said Friday that Republicans should do more to make sure that gay men and lesbian women do not fall victim to the sort of Shariah law practiced by hard-line Islamists.

Foster Friess, the the multimillionaire who helped keep Rick Santorum's presidential dreams afloat in the GOP primary last year, told reporters at a breakfast hosted by the Christian Science Monitor that he wants to make sure that gay people are not killed in foreign nations because of their sexual preference.

Asked whether the Republican Party should embrace gay marriage, the 72-year-old investment manager said, "We have to protect the gay people in our country from Shariah law."
There is no sharia law in the US. But every week, like clockwork, someone on the editorial pages of the Washington Times, insists there is. I always get a newsletter in my mailbox about it.
The result of this mania (among many other GOP manias) has been that Republican Party-controlled state legislatures have worked to put in place anti-shariah laws around the country.
While it's easy to laugh at this kind of thing, keep in mind they're always dead serious.
---
The GOP anti-sharia craze — from the archives.
Permalink Comments off
12.15.12

Posh Christmas catalog in the US or what Adam Lanza used?
Is that all that can be done? The early returns aren't optimistic.
From a Michigan newspaper, the usual intelligence-insulting extremist script on self-defense as justifications for a right-to-concealed carry law rammed through the Republican held legislature hours before Newtown:
Backers say the tragedy is the work of one deranged person and shouldn't cloud the debate in Michigan, and could actually aid in ending the slayings.

Ari Adler, spokesman for Republican House Speaker Jase Bolger, said many "believe citizens who are allowed to carry concealed pistols can act in a positive way to bring a tragedy to a close more quickly" …

Ryan Mitchell, a spokesman for bill sponsor Sen. Mike Green, R-Mayville, said the legislation is "about letting those who are vulnerable and defenseless defend themselves."
At the New York Times, Nate Silver posted a graph showing the citation of various phrases used in news reports relating to "gun rights' issues over the past decades.
Once again, it is another indicator of the great polarization in American society, of the civil war between rural right white America and everyone else. It is very much part and parcel with the ideology of WhiteManistan.
"Gun control" and "gun violence," as usages, have decreased, the former plunged. "Second Amendment" usages have soared, tied almost exactly to the election of Barack Obama in 2008.
Paradoxically, from a week or so ago, on gun sales soaring in California this year:

"The National Rifle Association has done a wonderful job of demonizing President Obama," said [one observer to the newspaper].

In fact, Blek said, Obama's gun policies have either been nonexistent or a step backward in the eyes of safety advocates …
While a long read, a piece from the New Yorker, written just after another massacre this year, has much to say on the radicalization of right white America's obsession with owning firearms:

Gun-rights advocates say that the answer [to massacres] is more guns: things would have gone better, they suggest, if the faculty at Columbine, Virginia Tech, and Chardon High School had been armed. That is the logic of the concealed-carry movement; that is how armed citizens have come to be patrolling the streets. That is not how civilians live. When carrying a concealed weapon for self-defense is understood not as a failure of civil society, to be mourned, but as an act of citizenship, to be vaunted, there is little civilian life left.
The reporter, Jill Lepore, delivers some statistics. That Americans own the most guns in the world is not surprising.
However, inside that statistic is the sub-data that most Americans do not own guns. Gun ownership, in fact, is falling. The numbers come primarily from WhiteManistan, with some statistically trivial exceptions) where owning individuals have many of them (which agrees with the observation of an astonishing number of guns in the name of Adam Lanza's mother who cannot now answer questions on why she bought so many).
"Gun ownership is higher among whites than among blacks, higher in the country than in the city, and higher among older people than among younger people," she writes.
"I asked him how [David Keene, president of the NRA] would answer critics who charge that no single organization has done more to weaken Americans' faith in government, or in one another, than the N.R.A," writes Lepore, near the end.
"We live in a society now that's Balkanized," Keene told the New Yorker's journalist. "But that has nothing to do with guns."
A letters page from The Chattanoogan of Tennessee, today, shows the bleak split.

And, previously, as noted up top: While there is always a lot of emotionalism at the time of an incident, the public is largely unaffected by regular massacres. Views do not shift, although the NRA has successfully reduced a basic interest in gun control over the last decade.
It's quite the holiday gift to consider.
---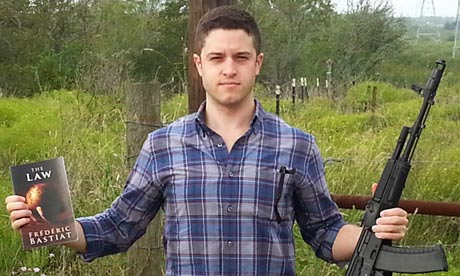 Just a week ago, fighting to make 3-D manufacturing plans for guns, including assault rifles, available on an "Internet redoubt."
That's real freedom from tyranny.
---
UPDATE addition:
I noted earlier today that the NRA and gun ownership is indivisible from the toxin ideology of WhiteManistan. All are intrinsically imbued with outlooks steeped in authoritarianism and pursuit of the destruction of those not deemed to be of them.
If you go to the anti-NRA site, Who Is The NRA Leadership?, it lists its leaders — all white men with the occasional token woman.
It notes the NRA bet big in terms of financial support on Romney and GOP candidates and lost the majority of its investment in 2012. And this shows that while complete freedom of gun ownership is a belief of white men, it's still the ideology of a minority in comparison to the collective US demographic. In other words, it just lost its numbers.
Paradoxically, the Democratic Party remains cowardly when faced by the NRA. But I would bet that there are results that can be had in attacking the modern National Rifle Association and renewing issues in gun control head on.
I believe it could be be pushed further to the fringes of red white rural USA with not much of a downside for the rest of the voting core. It's irrevocably attached to white GOP politicians. When the GOP goes down it takes the NRA with it.
The National Rifle Association spends almost all of its time demonizing Barack Obama. The Republican Party spends all of its time demonizing Barack Obama and everyone else not like it. The GOP just lost big time.
Non-white voters already alienated by that party are not going to suddenly vote Republican to stick up for getting rid of assault rifles as sporting fun. It is well past time to attack the NRA.
What's the worst that could happen? More super-rich people with ties to gun manufacturing will give money to GOP politicians? Oh, wait …
Readers note! "WhiteManistan" added as an official category! Yippee!
My intent is to use it in place of the Extremism and Psychopath Vote categories. It supersedes and includes both. WhiteManistan has become, by definition, where extremism lives in the USA.
Permalink Comments off
12.12.12
When the Republican Party moves on something it can never contain it's burning desire to attack everything it hates, across the board.
I'll leave the coup which turned Michigan into a right-to-work state to others.
Close on the heels of it is another bill, GOP authored, to curb the menace no one can see but the far right.
From the Detroit Free Press:
A Muslim rights group has urged Michigan Gov. Rick Snyder to veto legislation designed to block use of Islamic law in the state should it reach his desk.

A House bill to bar use of "foreign laws that would impair constitutional rights" was on Tuesday's House agenda. Rep. Dave Agema, R-Grandville, sponsored the bill, which doesn't specifically mention the Islamic legal code called sharia. However, the bill's supporters have said they are concerned about the use of sharia spreading …
Pure and simple, it's a bigot's bill, another part of the Republican Party's obsession with getting after people they hate.
And, nationwide, it has been common in red states since the election of Barack Obama, pushed by persistent lobbying by Islam-o-phobe groups in Washington, often associated with Frank Gaffney.
"The question now is whether Michigan Republicans can find time to deal with a nonexistent Shariah takeover when they're so hard at work crushing unions and curtailing women's rights," comments a piece at Mother Jones.
It would be almost funny. But when you're laughing the Republican Party, even though a minority, always manages to ram through toxic
legislation at the local level.
---
The creeping menace of fluoride sharia — from the archives.
11.30.12
Back at the end of 2010 I enumerated a year end list — the biggest threats to the nation's security. They were all internal and that old list is here.
All the threats still exist. But number 4 on the list — the Republican Party — has climbed to the top. And that is because since December 2010, the stakes have become higher, the disasters greater. Even less has been done.
At the time:
The Republican Party is a threat to security. And not solely because of its descent into right-wing extremism …

As the party that denies science, one that will put people in committee chairmanships overseeing science and technology issues in the House who are basically opposed to science whenever it contradicts their political views, the GOP poses a threat to America's future.

You can't have a forward-looking and capable nation with people in power who truly believe global warming and evolution are hoaxes.
During the past election, global warming was a third rail issue. The President would not speak of it.
In fact, about the only thing he would talk about with any connection to it was how avid a developer of fossil fuels he would be. And Mitt Romney made a joke of global warming it at the Republican National Convention.
And then came Sandy, a storm so violent it delivered notice that in the future there would be more of the same.
Two weeks after the election the Associated Press ran this story, on weather disasters and the impact of the Republican Party on science and the recognition of it:
The nation's lifelines — its roads, airports, railways and transit systems — are getting hammered by extreme weather beyond what their builders imagined, leaving states and cities searching for ways to brace for more catastrophes like Superstorm Sandy.

Even as they prepare for a new normal of intense rain, historic floods and record heat waves, some transportation planners find it too politically sensitive to say aloud the source of their weather worries: climate change.

Political differences are on the minds of the American Association of State Highway and Transportation Officials, whose advice on the design and maintenance of roads and bridges is closely followed by states. The association recently changed the name of its Climate Change Steering Committee to the less controversial Sustainable Transportation, Energy Infrastructure and Climate Solutions Steering Committee.

Still, there is a recognition that the association's guidance will need to be updated to reflect the new realities of global warming.
In the immediate future, global warming is going to cost life. It means the continuing destruction of infrastructure on a national scale. We can only cope with it.
But at this time the gift of the Republican Party has made movement on the issue, except in sneaking inches by government agency, impossible. The GOP has successfully convinced almost half the nation to share in its dangerous know-nothing-ism, aided and abetted by reactionary mega-corporate interests, plutocrat money and the fossil fuel industries which choose to maintain a status quo at the expense of everyone else.
"[Several] climate scientists say sea level along New York and much of the Northeast is about a foot higher than a century ago, mostly because of man-made global warming, and that added significantly to the damage when Sandy hit," wrote the AP.
Yet, "In conservative states, the term 'climate change' is often associated with left-leaning politics … Planning for weather extremes is hampered by reluctance among many officials to discuss anything labeled 'climate change' … The Obama administration has also shied away from talking publicly about adaptation to climate change. Transportation Secretary Ray LaHood's office refused to allow any department officials to be interviewed by The Associated Press …"
It is not a bipartisan issue. The Republican Party and its bankrollers are entirely responsible for paralyzing a national response to global warming and accurate assessment and preparation for catastrophic weather. Democratic politicians won't address it because to speak of it immediately mobilizes millions of dollars against them in re-election campaigns, all furnished by the radical right.
If it were Switzerland, Luxembourg or Andorra perhaps this would not matter. But we are not those countries and it very obviously does matter.
And it should come as a source of great outrage to the American people that the Republican Party would appoint a science-denier, Lamar Smith of Texas, to chair that body's science panel. One can look at it as purely a political step taken to help guarantee paralysis as a national response.
The paralysis also infiltrates security and mainstream pundits.
In a column at CNN, the "deputy director of the National Security Studies Program at the New America Foundation," Patrick Doherty, writes on the challenges facing the nation.
"The U.S. must meet challenges such as climate change … says Patrick Doherty," reads the caption under a photo of wreckage.
"Climate change is already with us," Doherty writes. "Superstorm Sandy, the Derecho, Arctic melting, and droughts in the Midwest, India, China, and Russia this past year confirm the scientifically proven trend."
Nowhere in the piece does Doherty acknowledge the political obstacle, the Republican Party, which has made dealing with it, even in some small ways, virtually impossible.
In fact, Doherty points to a column from Lloyd Blankfein, the CEO of Goldman Sachs, as something which may carry good advice on meeting American challenges. His use is to imply how the US could mobilize business capital by, for example, giving a corporate tax break to America's big multi-nationals. But the Blankfein column is more interesting for how anti-solving problems it is.
However, in case no one actually read it (at the Wall Street Journal), here's a small bit of its advice:
For the first time in several generations, it has become clear that abundant domestic energy resources are within our reach, and that we have the technology to responsibly and safely extract it. The government needs to work with the private sector to implement effective and far-reaching policies to develop these resources.
That's what you call a gold-plated recommendation for expanded use and mining of fossil fuels. Call it the accelerate-and-exacerbate-global warming answer to the problem of climate change. Blankfein, of course, does not have to worry about this. When climate change turns the Manhattan neighborhood of Goldman Sachs into a skyscraper version of Stiltsville in the Biscayne Bay, he will be gone.
Today, at the Washington Post, Eugene Robinson laments the inaction:
You also might not have noticed that we're barreling toward a "world of unprecedented heat waves, severe drought, and major floods in many regions." Here in Washington, we're too busy to pay attention to such trifles …

Meanwhile, evidence mounts that the legacy we pass along to future generations will be a parboiled planet.
But even Robinson can't bring himself to write that it's the GOP that has derailed the matter in the US.
To his credit he recommends the President do something:
And this is why President Obama should devote his next State of the Union address to climate change. He understands the science and knows the threat is real. Convincing the American people of this truth would be a great accomplishment …
The President has won re-election. There is no further political cost the GOP can extract from him. Telling the people about global warming in no uncertain terms is something he can do. Barack Obama can spell out who has blocked action, the very anti-science beliefs of the Republican Party, who supports them, and what the consequences have been at the federal and local level.
---
What was the Obama administration's effort to battle climate change, or at least increase informed recognition of it, in the last year?
About zero.
However, the White House did issue a draft executive order on infrastructure cybersecurity in late September.
---
"Fueled by global warming, polar ice sheets in Greenland and Antarctica are now melting three times faster than they did in the 1990s, a new scientific study says," reads a story, today, from the AP.

"Greenland is really taking off," National Snow and Ice Data Center scientist Ted Scambos told the news agency. Scambos is a a co-author of the paper referenced by the AP and published in the peer-reviewed journal, Science.
---
Previously — the GOP — anti-science menace.
So if many in our country think that putting a modern Republican in power is a way to move the place forward, to help it deal with the very complex global problems with which it is currently faced, they're one with entropy, which is the falling apart of everything, from order to disorder, until there is nothing left. That's a tragedy and we should not delude ourselves that such actions, behaviors or opinions defend anything worthwhile.
11.27.12
Pointed to by Paul Krugman, Reaganite supply-side economist Bruce Bartlett throws in the towel in a long essay for the American Conservative. It's clear he wants to write another book about it. Presumably, it is meant to serve as a leader for offers.
The essence of it is the Republican Party is well and truly fucked, no surprise. And it purged him for not being of the body. And he's clearly very upset that he was expelled, fired, blacklisted, and permanently crossed off the lists of former friends.
All the stupidity and closed-mindedness that right-wingers have displayed over the last 10 years has come back to haunt them. It is now widely understood that the nation may be center-left after all, not center-right as conservatives thought. Overwhelming losses by Republicans to all the nation's nonwhite voters have created a Democratic coalition that will govern the nation for the foreseeable future …

The economy continues to conform to textbook Keynesianism. We still need more aggregate demand, and the Republican idea that tax cuts for the rich will save us becomes more ridiculous by the day. People will long remember Mitt Romney's politically tone-deaf attack on half the nation's population for being losers, leeches, and moochers because he accurately articulated the right-wing worldview.
Although Bartlett never says it rudely, he informs that all the shitting on everyone not white and nonsensical ideas about the economy have perhaps irreparably maimed the Republican Party in the electorate.
He suggests this could be ameliorated by trying to be more appealing to the black voter, since the Hispanic voter is totally lost.
Yeah, that's going to happen.
---
Bartlett doesn't actually go far enough. He concedes the GOP is doomed to be a blocking minority party, preserving power to interfere with things but not advance any national policy or people.
Because it has successfully proven itself to be suicidally capable of obstruction, it's gone so far as to become a national security threat. Most notably, this in the area of advancing environmental disasters.
The GOP denies science and successfully derailed all action on global warming in the US at the federal level. It transformed actually trying to do something about a documented global problem into an electrified third rail.
Wait and see. Six months from now the GOP will have cooked up some crazy conspiracy theory and a raft of fake facts to argue that Sandy was normal. And on their tv, web sites and radio they will laugh and titter at everyone else so stupid as to believe what they witnessed just before the election.
---
The 2012 election rendered the GOP structurally dead in California. If you're a Republican politician in California, now you're just a powerless white asshole, persona non grata, someone who could not ever be reasoned or worked with.
I moved here in 1991 when the San Gabriel Valley was essentially conservative GOP. In the following years it turned blue.
From the time I arrived until 1998, Republican Pete Wilson was governor. And as part of the GOP, he implemented the party's war on Hispanics with the horrible Proposition 187 to deprive illegal immigrants of any social, health or educational services in California.
Although it was passed by a reactionary white referendum its eventual effect was to permanently turn a substantial part of the state electorate against the GOP.
And now it has finally changed, irreversibly. California is a one party state. But not without cost. The GOP, as a blocking party, assiduously wrecked the place for two decades.
Permalink Comments off
11.21.12
It is not right to coddle the beliefs of idiots or encourage their manias. Doing it puts you on the side of evil, even if it's just television and you need the money.
'Doomsday Preppers': The craziest bunkers we've seen so far: \
Larry doesn't want "possible marauders" stealing his stuff in a post-apocalyptic free-for-all, so he's doing what any sane individual would do: He's building an entire condo building underground, fourteen stories embedded in nine feet of concrete. When it's finished, Larry says this luxurious bunker will have a swimming pool, exercise rooms, and a movie theater …
Demoralizing.
---
The dogshite that is National Geographic on cable — from the archives.
Permalink Comments off
11.16.12
You see, citizens, the cliff would dramatically cut the deficit, but it would do so by cutting Pentagon spending–

Which through the mysteries of Newly Frugalness, is huge government spending that is amazingly not socialistic!

We all know true deficit reduction can only come from cutting pinko social programs like schools, health and welfare!

The Fiscal Cliff also threatens to blow up the Bush tax cuts and devious Spendocrats want taxes for the rich to return to what they were during the dark days of Clinton, back when the economy was, was, well . . . never mind.
Permalink Comments off
If you wrote about computer viruses and the anti-virus software industry in the late Eighties and early Nineties, you dealt with John McAfee, the founder of McAfee Associates.
To the many people who crossed his path on a tropical island in Belize, it was apparent John McAfee's life had taken some bizarre turns in the last few years.

The anti-virus software guru, who started McAfee Associates in 1989, has been in hiding since police said they wanted to question him about the weekend murder of his neighbor, fellow American Gregory Faull, with whom McAfee had quarreled.

Despite his disappearance, McAfee, 67, has remained in contact with the media, providing a stream of colorful bulletins over his predicament, state of mind and his claim that Belize's authorities want to kill him.

Residents of the Caribbean island of Ambergris Caye and others who know him paint the picture of an eccentric, impulsive man who gave up a career as a successful entrepreneur in the United States for a life of semi-seclusion in the former pirate haven of Belize, surrounded by bodyguards and young women.
The anti-virus industry was started by individuals you might gently call "idiosyncratic," like McAfee.
The publisher of Virus Creation Labs, my book on that world, also fled to Belize over a decade ago.
Excerpts from the Virus Creations Labs are here.
The very distant past. Now go listen to Calling Paula Broadwell.
11.15.12

WhiteManistan's King couldn't match the gifting to non-whites.
From today's Los Angeles Times:
Mitt Romney said Wednesday that his loss to President Obama was due in large part to his rival's strategy of giving "gifts" during his first term to three groups that were pivotal in the results of last week's election: African Americans, Latinos and young voters.

"The Obama campaign was following the old playbook of giving a lot of stuff to groups that they hoped they could get to vote for them and be motivated to go out to the polls, specifically the African American community, the Hispanic community and young people," Romney told hundreds of donors during a telephone town hall Wednesday …

The Los Angeles Times listened in to the Wednesday call, but Romney did not appear to be aware of the presence of reporters.
Oops.
It was the gifts — free stuff they did not deserve — to those 47 percent in the national moochers club, apparently:
"With regards to African American voters, 'Obamacare' was a huge plus — and was highly motivational to African American voters. You can imagine for somebody making $25—, or $30—, or $35,000 a year, being told you're now going to get free healthcare — particularly if you don't have it, getting free healthcare worth, what, $10,000 a family, in perpetuity, I mean this is huge. Likewise with Hispanic voters, free healthcare was a big plus."
A not-white person in the GOP, Bobby Jindal, in realizing Mitt Romney poses a gigantic public relations problem:

A leading Republican governor sharply rebuked Mitt Romney for his view that President Obama owed his reelection to "gifts" his administration gave to various demographic groups, saying the sentiment was not representative of what the Republican Party believes.

At a post-election gathering of the Republican Governors Assn., Louisiana Gov. Bobby Jindal said Romney's comments just hours earlier in a conference call with top donors were "absolutely wrong."

"We have got to stop dividing the American voters …"

Can't we all get away from The Stench? Not so fast, it would seem.
---
From Krugman, on the Romney phone call, also mentioning Lee Atwater as the architect of current GOP tactics in demonizing the black demographic:
Lee Atwater: You start out in 1954 by saying, "Nigger, nigger, nigger." By 1968 you can't say "nigger"—that hurts you, backfires. So you say stuff like, uh, forced busing, states' rights, and all that stuff, and you're getting so abstract. Now, you're talking about cutting taxes, and all these things you're talking about are totally economic things and a byproduct of them is, blacks get hurt worse than whites.…

---

What Mitt Romney is now complaining about is the horrifying reality that many people who aren't black see themselves as victims of those "economic things" — and as a result anti-government rhetoric is turning into a way to lose elections rather than win them.

And I don't think the Republican party as currently constituted can change this: after 45 years of the Southern strategy, this stuff is what defines the party's soul.
A few years ago Atwater was the subject of a documentary called Boogie Man.
It was a comprehensive dissection, exposing the famous dead man's tactics during the elder Bush's first campaign.
Wholly bizarre and sickening, Lee Atwater was a bigot like Ted Nugent in that he and his pals insisted he wasn't one while simultaneously exploiting race division.
He also played guitar and chummed around with old black blues artists who seemed to tolerate him even though they knew what he was about. Atwater apparently felt that such associations, like many so afflicted, proved he couldn't possibly be a racist.
Then Atwater came down with an aggressive brain tumor. In a losing struggle for life portrayed in Boogie Man, he goes on a piteous self-examination trip, coming to the agonized conclusion that he was a horrible human being, one of the real bad men.
Atwater begs and talks as if he's afraid of what's in store. When I was watching it I was glad he perished. That seemed fair.
Atwater made a mockery of decency. From the venomous political propaganda that was his invention and the antic little white man clown guitar playing routines at GOP victory parties to the leeching on to famous blues musicians by offering them opportunity to rub elbows with famous politicians, Boogie Man continually makes you vaguely nauseous. It is the biography of slime. And the cruel animal atavism shown in it is the backbone of the crazy Republican Party.
Atwater, briefly discussing how to use racism in political campaigns, here at Pine View Farm.
The trailer for Boogie Man is here.
The inexplicable and frankly stupefying all-star blues record "featuring" Lee Atwater, from 1990.
Permalink Comments off